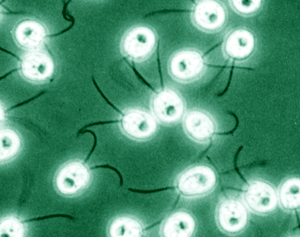 The genome sequence and gene models of Chlamydomonas reinhardtii were downloaded from Phytozome, the Joint Genome Institute (JGI) plant genomics portal. In order to allow comparative analyses with other algal genomes sequenced by the JGI, a copy of this genome is incorporated into PhycoCosm. JGI tools were used to automatically annotate predicted proteins.
Chlamydomonas reinhardtii is a single celled chlorophyte. Highly adaptable, these green algae live in many different environments throughout the world. Normally deriving energy from photosynthesis, with an alternative carbon source, C. reinhardtii can also thrive in total darkness.
The relative adaptability and quick generation time have made Chlamydomonas an important model for biological research. Over the years, studies of Chlamydomonas have provided major research contributions in the areas of photosynthesis and molecular biology.
Genome Reference(s)
Please cite the following publication(s) if you use the data from this genome in your research:
Merchant SS, Prochnik SE, Vallon O, Harris EH, Karpowicz SJ, Witman GB, Terry A, Salamov A, Fritz-Laylin LK, Maréchal-Drouard L, Marshall WF, Qu LH, Nelson DR, Sanderfoot AA, Spalding MH, Kapitonov VV, Ren Q, Ferris P, Lindquist E, Shapiro H, Lucas SM, Grimwood J, Schmutz J, Cardol P, Cerutti H, Chanfreau G, Chen CL, Cognat V, Croft MT, Dent R, Dutcher S, Fernández E, Fukuzawa H, González-Ballester D, González-Halphen D, Hallmann A, Hanikenne M, Hippler M, Inwood W, Jabbari K, Kalanon M, Kuras R, Lefebvre PA, Lemaire SD, Lobanov AV, Lohr M, Manuell A, Meier I, Mets L, Mittag M, Mittelmeier T, Moroney JV, Moseley J, Napoli C, Nedelcu AM, Niyogi K, Novoselov SV, Paulsen IT, Pazour G, Purton S, Ral JP, Riaño-Pachón DM, Riekhof W, Rymarquis L, Schroda M, Stern D, Umen J, Willows R, Wilson N, Zimmer SL, Allmer J, Balk J, Bisova K, Chen CJ, Elias M, Gendler K, Hauser C, Lamb MR, Ledford H, Long JC, Minagawa J, Page MD, Pan J, Pootakham W, Roje S, Rose A, Stahlberg E, Terauchi AM, Yang P, Ball S, Bowler C, Dieckmann CL, Gladyshev VN, Green P, Jorgensen R, Mayfield S, Mueller-Roeber B, Rajamani S, Sayre RT, Brokstein P, Dubchak I, Goodstein D, Hornick L, Huang YW, Jhaveri J, Luo Y, Martínez D, Ngau WC, Otillar B, Poliakov A, Porter A, Szajkowski L, Werner G, Zhou K, Grigoriev IV, Rokhsar DS, Grossman AR
The Chlamydomonas genome reveals the evolution of key animal and plant functions.
Science. 2007 Oct 12;318(5848):245-50. doi: 10.1126/science.1143609