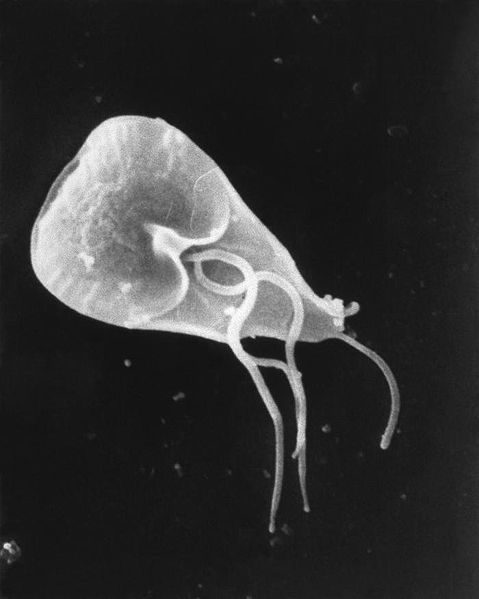 The genome sequence and gene models of Giardia intestinalis were not determined by the Joint Genome Institute (JGI), but were downloaded from NCBI on May 29, 2018. In order to allow comparative analyses with other genomes sequenced by the JGI, a copy of this genome is incorporated into the JGI Genome Portal. JGI tools were used to automatically annotate predicted proteins. Please note that this copy of the genome is not maintained by NCBI and is therefore not automatically updated.
The following text comes from NCBI Genome:
Giardia intestinalis
Giardia lamblia, also referred to as Giardia intestinalis, is a common cause of diarrhea (giardiasis) in humans and other mammals throughout the world. It is the most common cause of waterborne outbreaks of diarrhea in the United States and is occasionally seen as a cause of food-borne diarrhea. The prevalence of giardiasis in many developing countries in tropical regions is very high. G. lamblia is a single-celled eukaryotic organism which lacks organelles that are nearly universal in eukaryotes, such as nucleoli, peroxisomes and mitochondria. It also lacks the components of oxidative phosphorylation. It is not clear why G. lamblia maintains a polyploid genome with two apparently identical nuclei. The sequencing of this organism's genome will certainly provide insights into the selective advantage conferred by the two nuclei. The study of other unique features of this protist may provide information on eukaryotic evolution and should facilitate the understanding of this organism's biology and pathogenicity.
Genome Reference(s)
Please cite the following publication(s) if you use the data from this genome in your research:
Morrison HG, McArthur AG, Gillin FD, Aley SB, Adam RD, Olsen GJ, Best AA, Cande WZ, Chen F, Cipriano MJ, Davids BJ, Dawson SC, Elmendorf HG, Hehl AB, Holder ME, Huse SM, Kim UU, Lasek-Nesselquist E, Manning G, Nigam A, Nixon JE, Palm D, Passamaneck NE, Prabhu A, Reich CI, Reiner DS, Samuelson J, Svard SG, Sogin ML
Genomic minimalism in the early diverging intestinal parasite Giardia lamblia.
Science. 2007 Sep 28;317(5846):1921-6. doi: 10.1126/science.1143837