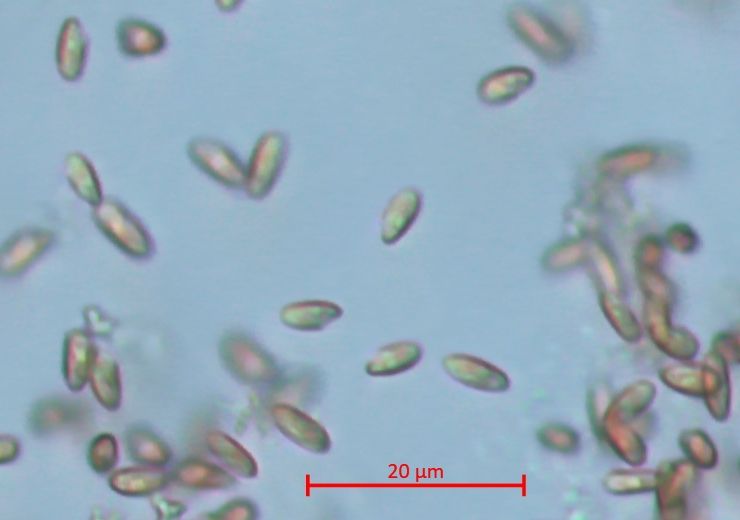 Proteomonas sulcata CCMP 1175 (a.k.a. Mel-060) was collected in the Bass Strait off the coast of Cape Otway, Victoria, Australia (38.1°S, 144.65°W) in the 1980s by D.R.A. Hill. It is a single-celled eukaryotic marine alga in the phylum Cryptophyta, and is the only described species of Proteomonas (Hill & Wetherbee 1986). Phylogenetically, it is closest to a clade comprised of Rhodomonas, Rhinomonas, and Storeatula (M. Greenwold, et al., unpublished analysis). Due to Cryptophytes' origin through secondary endosymbiosis, P. sulcata contains nuclear and mitochondrial genomes descended from an unknown heterotrophic host, and nucleomorph and chloroplast genomes from a red algae endosymbiont. This work is part of a larger project aimed at understanding the evolution of diverse photosynthetic pigments in Cryptophytes, and the functional consequences of that diversification. P. sulcata generally appears red, driven by a Cryptophyte phycoerythrin that absorbs maximally at 545 nm and makes up ~60% of the total pigments found in the cell (Cunningham, et al 2018). Population growth rate and several aspects of P. sulcata CCMP 1175 physiology respond to light spectrum (Heidenreich & Richardson 2020), with spectral photoacclimation changes to cell size, phycoerythrin concentration, and absorbance spectrum (particularly between 400 and 550 nm).
References
Hill, D.R.A. and Wetherbee. R. 1986. Proteomonas sulcata gen. et sp. nov. (Cryptophyceae), a cryptomonad with two morphologically distinct and alternating forms. Phycologia. 25: 521-543.
Cunningham, B. R., M. J. Greenwold, E. M. Lachenmyer, K. M. Heidenreich, A. C. Davis, J. L. Dudycha, and T. L. Richardson. 2018. Light capture and pigment diversity in marine and freshwater cryptophytes. J. Phycol. 55: 552-564.
Heidenreich, K. M. and T. L. Richardson. 2020. Photopigment, absorption, and growth responses of marine cryptophytes to varying spectral irradiance. J. Phycol. 56: 507-520.