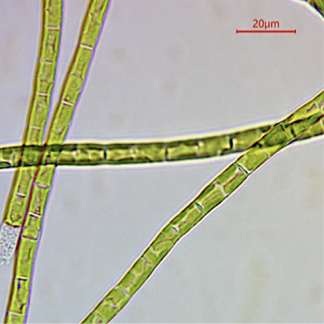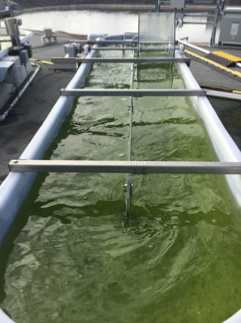 The genome and transcriptome sequences were not determined by the Joint Genome Institute (JGI). The genome was sequenced with PacBio and Illumina, and then assembled with Canu by Krissy Mahan at Sandia National Laboratories. The transcriptome was sequenced with Illumina by Krissy, and then assembled with Trinity by JGI. Subsequently, all of the above data were inputted into the JGI Annotation Pipeline, which produced a final structural and functional annotation.
Tribonema minus UTEX B ZZ1240 was isolated in 2017 during the US Department of Energy funded ABY2 project. This strain originated from a wastewater treatment pond in San Luis Obispo, California and is highly productive in outdoor raceway systems.
The filamentous yellow-green alga Tribonema minus belongs to the class Xanthophyceae and the order Tribonematales. This species is common to many freshwater and wastewater ecosystems and are distinguished by their filamentous non-branching, H-shaped bipartite walls. Members of this genus have previously been reported to be high lipid and carbohydrate producers making these organisms potential candidates for biofuel production. In addition, these strains can be harvested without chemical flocculants and have applications in bioremediation of toxic compounds.
Genome Reference(s)
Please cite the following publication(s) if you use the data from this genome in your research:
Mahan KM, Polle JEW, McKie-Krisberg Z, Lipzen A, Kuo A, Grigoriev IV, Lane TW, Davis AK
Annotated Genome Sequence of the High-Biomass-Producing Yellow-Green Alga Tribonema minus.
Microbiol Resour Announc. 2021 Jun 17;10(24):e0032721. doi: 10.1128/MRA.00327-21
Davis AK, Anderson RS, Spierling R, Leader S, Lesne C, Mahan K, Lundquist T, Benemann JR, Lane T, Polle JEW
Characterization of a novel strain of Tribonema minus demonstrating high biomass productivity in outdoor raceway ponds.
Bioresour Technol. 2021 Jul;331():125007. doi: 10.1016/j.biortech.2021.125007