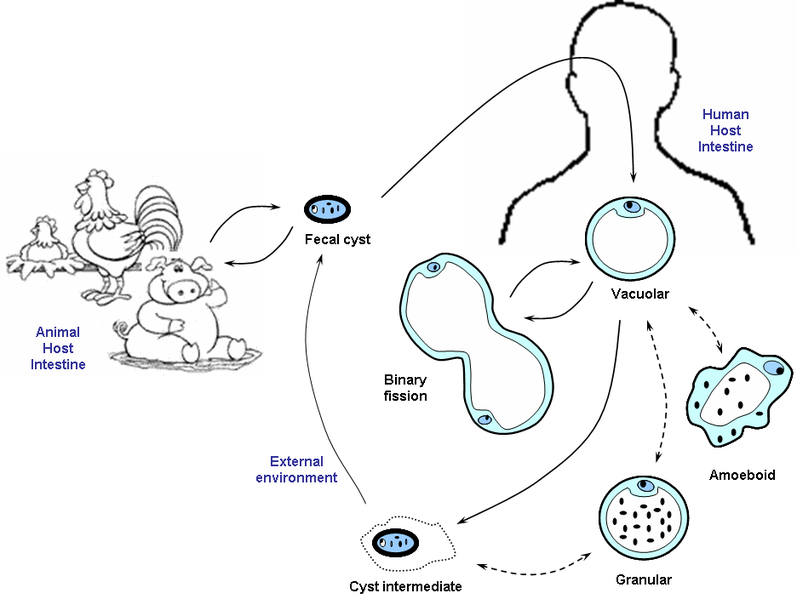 The genome sequence and gene models of Blastocystis hominis Singapore isolate B (sub-type 7) were not determined by the Joint Genome Institute (JGI), but were downloaded from NCBI on October 20, 2017. In order to allow comparative analyses with other heterokont genomes sequenced by the JGI, a copy of this genome is incorporated into Mycocosm. JGI tools were used to automatically annotate predicted proteins. Please note that this copy of the genome is not maintained by NCBI and is therefore not automatically updated.
From NCBI Genome: https://www.ncbi.nlm.nih.gov/genome/299
Blastocystis hominis
Intestinal protozoa that can cause gastrointestinal disease
Blastocystis hominis is an intestinal protozoan parasite of humans and animals. This organism has been identified in the feces of asymptomatic hosts, however, there is increasing evidence that Blastocystis hominis can cause gastrointestinal disease in healthy and immunocompromised humans. This organism produces a thick-walled cyst form which may allow it to survive in the environment and enable transmission to a new host through contaminated water.
Genome Reference(s)
Please cite the following publication(s) if you use the data from this genome in your research:
Denoeud F, Roussel M, Noel B, Wawrzyniak I, Da Silva C, Diogon M, Viscogliosi E, Brochier-Armanet C, Couloux A, Poulain J, Segurens B, Anthouard V, Texier C, Blot N, Poirier P, Ng GC, Tan KS, Artiguenave F, Jaillon O, Aury JM, Delbac F, Wincker P, Vivarès CP, El Alaoui H
Genome sequence of the stramenopile Blastocystis, a human anaerobic parasite.
Genome Biol. 2011;12(3):R29. doi: 10.1186/gb-2011-12-3-r29