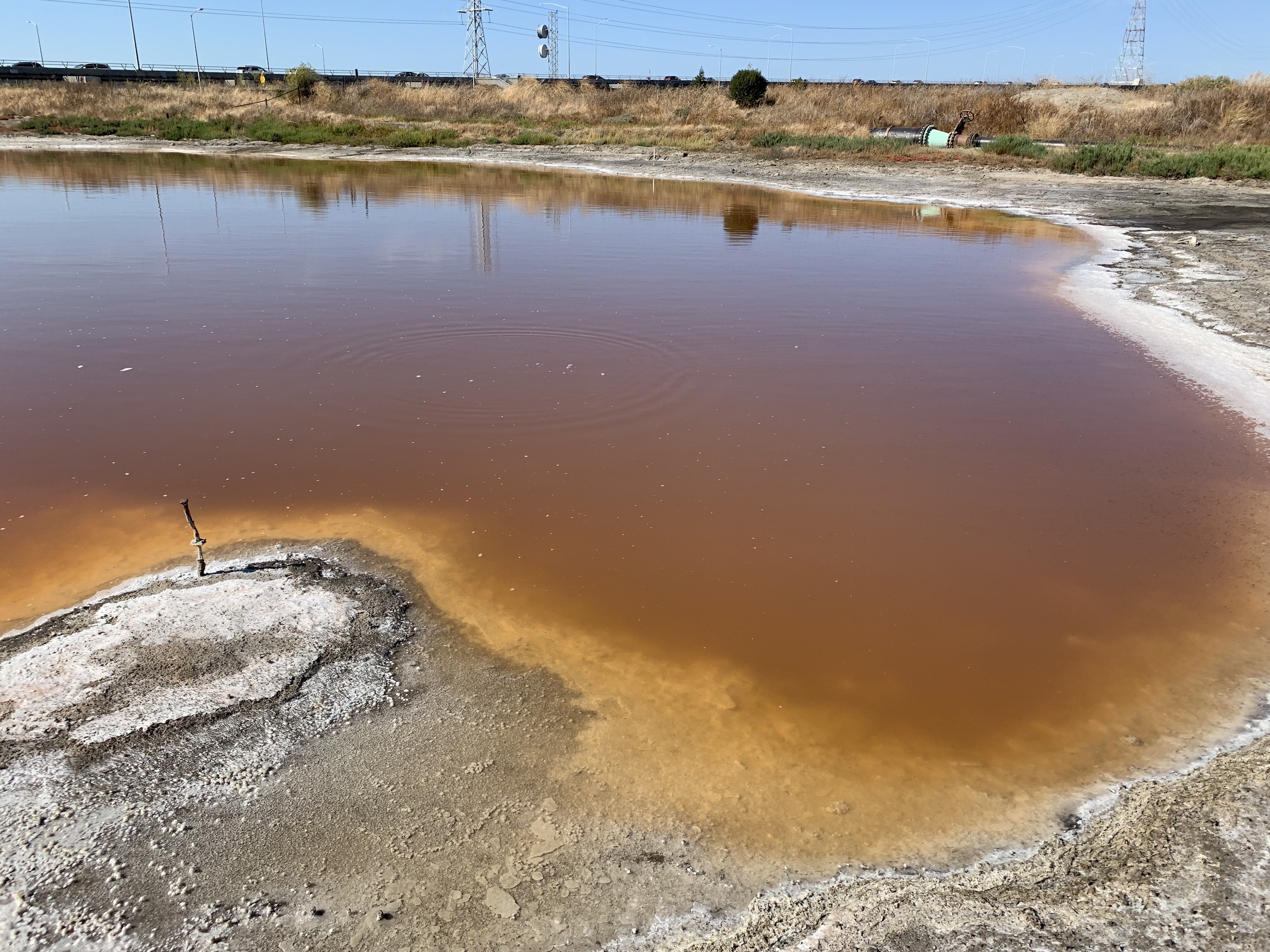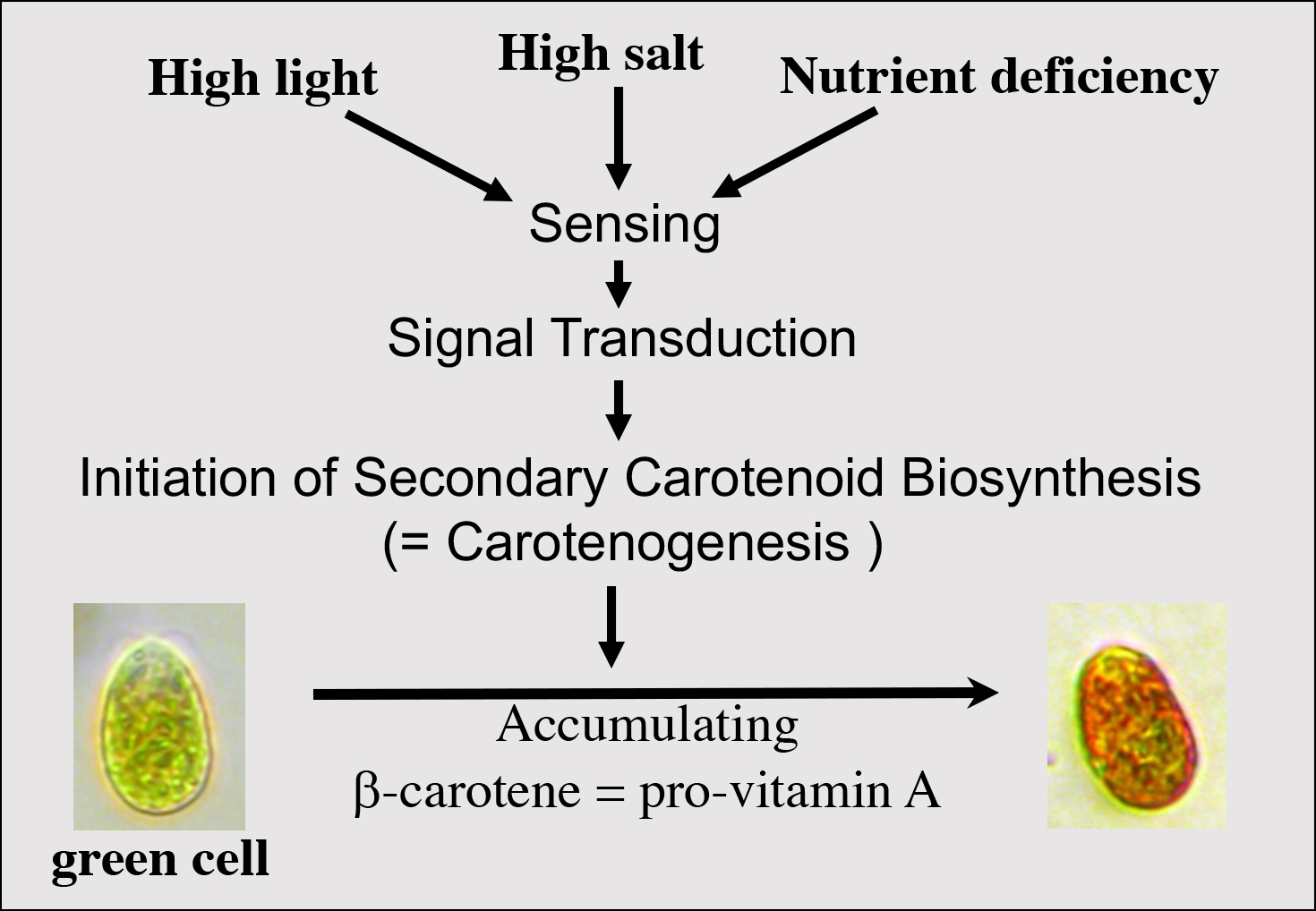 The genome sequence and gene models of Dunaliella salina CCAP19/18 were downloaded from Phytozome, on May 3, 2018. Please note that this copy of the genome is not maintained by Phytozome and is therefore not automatically updated. The latest data is available at Phytozome.
Dunaliella salina CCAP19/18
The unicellular green alga Dunaliella salina is the type species for the genus Dunaliella, which belongs to the family of the Chlorophyceae. Cells are biflagellate, lack a rigid cell wall, and contain a single large chloroplast. The species is halophilic and it can even grow in brine solutions. The external salinity is balanced by internal accumulation of glycerol. The photo to the left shows a typical hypersaline habitat for D. salina, a small pond with saturated brine by the Dumbarton Bridge in the San Francisco Bay Area, CA, USA.
Under optimal growth conditions cells are green, but when exposed to abiotic stress such as high light, low nutrients, and/or high salinities, D. salina can accumulate high levels of β-carotene so that cells appear orange-brown. In turn, ponds and lakes where D. salina dominates in the phytoplankton can have an orange-brown color. The capabilities of D. salina to accumulate β-carotene in combination with its domination of ponds with high salinities has made it a crop for production of nutritional supplements.
Genome Reference(s)
Please cite the following publication(s) if you use the data from this genome in your research:
Polle Juergen E. W., Barry Kerrie, Cushman John, Schmutz Jeremy, Tran Duc, Hathwaik Leyla T., Yim Won C., Jenkins Jerry, McKie-Krisberg Zaid, Prochnik Simon, Lindquist Erika, Dockter Rhyan B., Adam Catherine, Molina Henrik, Bunkenborg Jakob, Jin EonSeon, Buchheim Mark, Magnuson Jon
Draft Nuclear Genome Sequence of the Halophilic and Beta-Carotene-Accumulating Green Alga <i>Dunaliella salina</i> Strain CCAP19/18
Genome Announc. 2017;5(43): doi: 10.1128/genomeA.01105-17
Polle Jürgen E.W., Calhoun Sara, McKie-Krisberg Zaid, Prochnik Simon, Neofotis Peter, Yim Won C., Hathwaik Leyla T., Jenkins Jerry, Molina Henrik, Bunkenborg Jakob, Grigoriev Igor V., Barry Kerrie, Schmutz Jeremy, Jin EonSeon, Cushman John C., Magnusson Jon K.
Genomic adaptations of the green alga Dunaliella salina to life under high salinity
Algal Research. 2020;50:101990. doi: 10.1016/j.algal.2020.101990