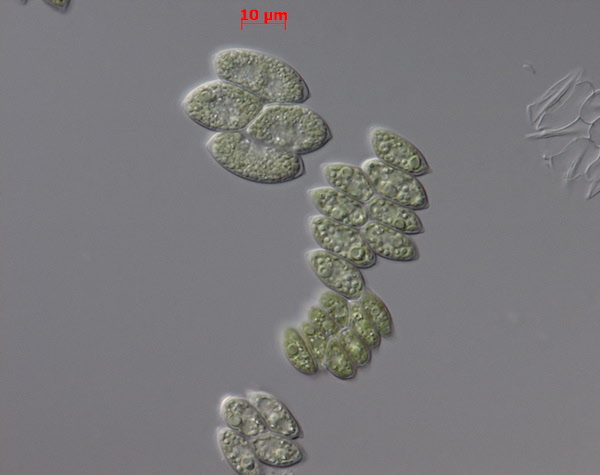 Enallax costatus CCAP 276/31
The green alga ​Enallax costatus ​(Schmidle) Pascher 1943 is an alga in the class Chlorophyceae, order Sphaeropleales. Formerly referred to as ​Scenedesmus costatus Schmidle 1895, the name currently accepted is ​Enallax costatus (Schmidle) Pascher 1943.
Enallax costatus​ is an aquatic microalga found in freshwater environments. The cells are ribbed, elongated, and without spines. The cell morphology can be variable but, in liquid culture, this species is often found forming microcolonies. After asexual division by multiple fission, cells remain attached along the lateral walls forming sheet-like, multicellular coenobium of 4 or 8 cells.
Enallax costatus​ CCAP 276/31 is a desiccation-intolerant aquatic alga, closely related to the desert-evolved, desiccation-tolerant, microalga ​Flechtneria rotunda SEV3-VF49. The strain CCAP 276/31 was obtained from the Culture Collection of Algae and Protozoa (​https://www.ccap.ac.uk/strain_info.php?Strain_No=276/31)​. Originally, this strain was isolated from Lake Tuomiojärvi, Jyväskylä, Finland. 62.2 ̊N, 25.7 ̊E. (Coll: 1980, Hegewald.)
References
Cardon, Z. G., Peredo, E. L., Dohnalkova, A. C., Gershone, H. L., & Bezanilla, M. (2018) A model suite of green algae within the Scenedesmaceae for investigating contrasting desiccation tolerance and morphology. ​J Cell Sci,​ ​131​(7), doi: 10.1242/jcs.212233.
Peredo, E.L. and Cardon, Z. G. (2020) Shared upregulation and contrasting downregulation of gene expression distinguish desiccation tolerant from intolerant green algae. PNAS, 117(29):17438-17445, doi: 10.1073/pnas.1906904117